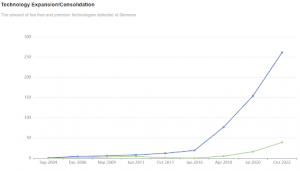 SAN FRANCISCO, CALIFORNIA, UNITED STATES, April 19, 2023/
EINPresswire.com
/ --
FlashInfo
, a leading Revenue Acceleration Platform, today announced the launch of its groundbreaking Technology Intent feature. The new feature offers detailed insights into companies' technology profiles and spending habits, enabling businesses to make more informed decisions and target potential customers more effectively.
The Technology Intent feature will provide users with valuable information such as:
Detailed Technology Profile: A comprehensive overview of a company's technology stack, including information on free and premium technologies currently in use.
Recommendations: Suggestions on how to approach a prospect based on their technology usage and trends.
Web Technology Spend: An annual estimate of a company's detectable web technology spend, including both free and premium solutions.
Technology Spend Trends: Information on whether a company's technology spend has increased or decreased over the past year.
Technology Consolidation: Insights into a company's technology expansion or consolidation efforts over time.
As an example, FlashInfo has identified that Siemens, a global technology powerhouse, currently spends approximately $162,353 per year on detectable web technologies, with a decreasing trend in technology spend and consolidation of its technology stack over the past year.
The Technology Intent feature not only provides insights into the technology stack but also offers valuable information about the usage of specific technologies. For example, Siemens is currently using AWS Cloudfront Edge locations in multiple cities worldwide, Algolia for site search, and Bing Universal Event Tracking for conversion optimization and retargeting.
FlashInfo's innovative Technology Intent feature is expected to provide users with a competitive edge in identifying and targeting high-quality prospects, ultimately accelerating their revenue growth.
For more information about FlashInfo and its cutting-edge features, visit
http://www.myflashcloud.com
.
Marketing
Flashinfo
[email protected]